Synergy Solar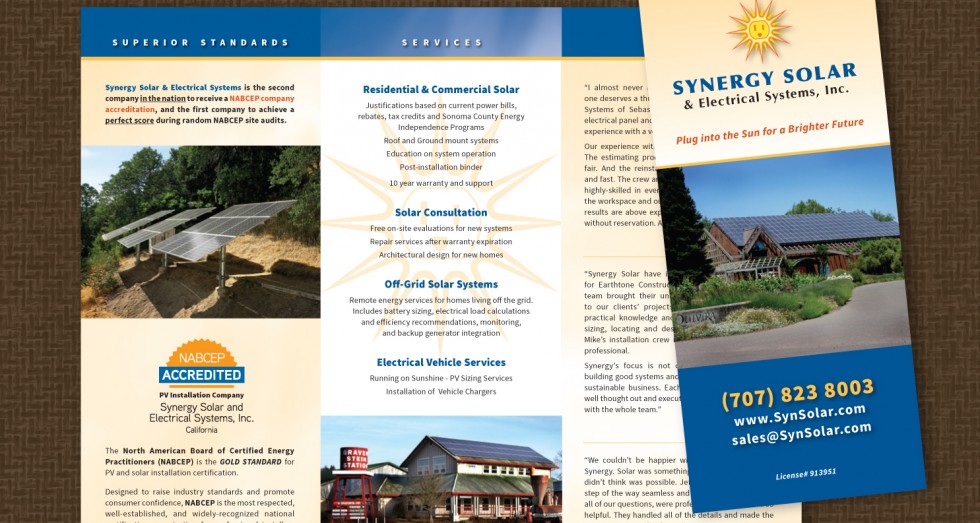 Headquartered in Sebastopol, California, Synergy Solar & Electrical Systems is the second company in the nation to receive a NABCEP company accreditation, and the first company to achieve a perfect score during random NABCEP site audits.
The North American Board of Certified Energy Practitioners (NABCEP) is the GOLD STANDARD for PV and solar installation certification. Designed to raise industry standards and promote consumer confidence, NABCEP is the most respected, well-established, and widely-recognized national certification organization for professional installers of renewable energy.
Synergy Solar believes every family, community and business can play a powerful role in creating an environmentally sustainable way of life. As a company they focus on lowering the carbon footprint of internal operations, and that of every customer we serve. Synergy strives to strengthen our local economy by purchasing their products locally whenever possible, providing customers with exceptional renewable energy solutions.
Okini Design was contracted to refine Synergy's marketing brochure and brand identity, supporting their new tagline: Plug into the Sun for a Brighter Future.  www.synsolar.com